Brief:
Date: 3-29-23
Objective: How to update or close TOS Cases that have Expired Maximum Probation/Parole Expiration Dates
Video: 108 Seconds
Images:

3

Best Practices: End of article

Related Articles

Steps:
Open your Tableau Report "Maximum Probation / Parole Date on Active TOS Case" and filter on "Previous Year" and "This Year" and identify all cases where the "Maximum Parole/Probation" dates have expired.
Review and assess the TOS Case information carefully and consult with your supervising Sending State field officer and the Receiving State ICJO to ensure the case dynamics and information are current and accurate.
If the case information is current and the case has an Expired "Maximum Probation/Parole Expiration Date":

Either state can initiate a "Case Closure Notification" Event as "Case Expired". Ideally the Sending State should trigger the Case Closure Event notification if the Receiving State has not started the process.

If the case is expired and needs to be updated with additional court case information:

Use the "Event" "Add Court Case" to update the case. Pertinent court case documentation should be uploaded (new orders) in addition to notifying the Receiving State via the "Case Communication" section. Most states will want corresponding documentation.

If the case is expired and the "Maximum Probation/Parole Expiration Date" needs updating because the case is extending past the term:

Update the Court Case Date and use the "Case Notes" and "Case Communication" to inform the Receiving State ICJO. Once updated, the Tableau Report will reflect the updated date change. Also upload any associated documentation to the Court Case section.
Video:
Overview of "Adding a Court Case" and "Adding the Event - Case Closure Notification"
Images:
Tableau Report: Maximum Parole / Probation Date on Active TOS Cases
Maximum Probation/Parole Expiration:

This date information is found in the "Court Case Information" section of the TOS "Court Case" header.

Additional Court Case Exists:

This indicates if more than one Court Case exists for the TOS Case. "Yes" indicates there is more than one Court Case in the case profile.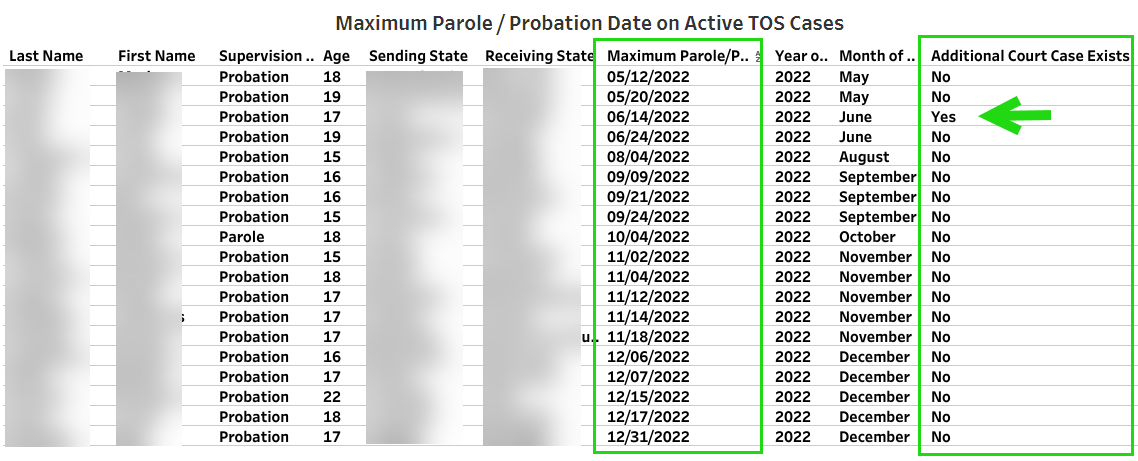 Location of the data field "Maximum Parole / Probation Expiration Date" in the TOS Case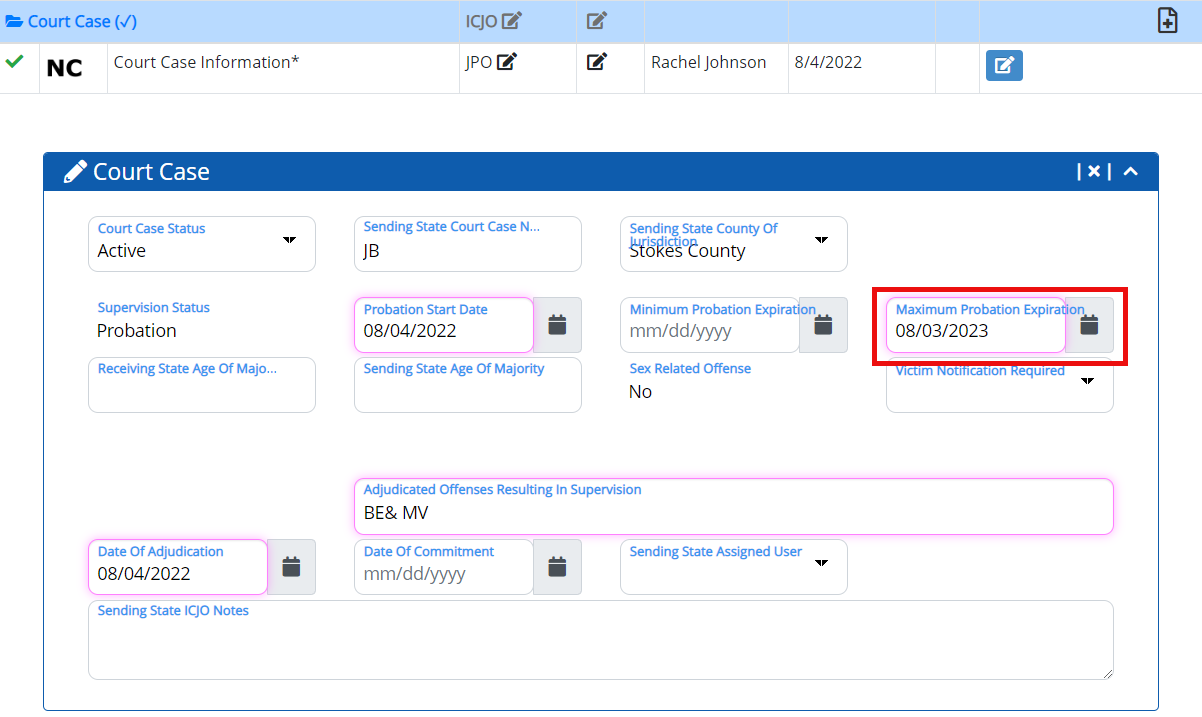 UNITY email example sent 15 days prior to the "Maximum Probation/Parole Expiration Date"

Please Note:
Best Practices:

Ensure you have all expired Maximum Parole/Probation Date TOS Cases properly updated by filtering on "Previous Year" and updating expired TOS cases in the current year. The "Previous Year" filter results will be blank if all TOS cases are properly updated.
Schedule the Tableau Max Probation/Parole Report to come into your email inbox monthly for proactive TOS Case review. Ensure the report setting are set to "This Year".
Ensure you are receiving the 15 day email notification of "

Maximum Parole/Probation Expiration" and sharing the communication with your state field officers.